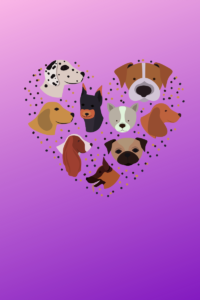 Adding a new dog to the family, whether a puppy or adult, is an exciting experience if you are a pet lover. The thought of adding a new friend to the family brings about feelings of love and anticipation of the future wonderful memories and experiences that you will share together.
One of the big decisions that must be made before adding that bundle of furry joy to your household is where you will obtain your pup. Many people opt to adopt from a private rescue or Humane Society, while some people choose to purchase a dog from a breeder. Whatever decision you make, let's go over a few guidelines to make certain that you choose the happiest, most healthy dog that is well suited for your family and lifestyle.
First, let's look at adopting a pet from a rescue organization. There are many rescue organizations these days and quite honestly, not all of them follow responsible practices. So, how to tell if a rescue organization is legit and looking out for the long term best interests of the dogs and potential adopters? Here are a few things to look for.
Ask the rescue how they obtained the dog. Believe it or not, many rescues will purchase dogs from auctions, puppy mills or irresponsible breeders and pass them off as rescues. A legitimate rescue will have dogs that are owner surrenders, picked up as strays or pulled from shelters.
Choose a rescue that has a good reputation. Yes, they should have references that are willing to be contacted and be able to provide you with legitimate success stories of dogs placed in long term situations.
The rescue should have a written re-homing policy in case for any reason the adopter is not able to keep the dog. A reputable rescue will take an adopted dog back if for any reason the placement isn't successful.
Before a dog is adopted out, a home check should be conducted and a trial period in which it can be determined if a dog is a good fit for the family.
All dogs should be temperament tested and the rescue should thoroughly explain and demonstrate the dog's temperament as well as the temperament tests used. Dogs with poor temperaments should NOT be adopted out. Do your research about temperament testing and ask as many questions as you need to be comfortable and confident about the temperament of the dog that you are interested in adopting. Also keep in mind that temperament is breed specific. Do not adopt a guarding breed expecting it to usher strangers into the house with a smile!
Dogs that are adopted out should be spayed and neutered before adoption…NO exceptions!
If you opt to purchase a pup or adult dog from the breeder, all of the same principles apply, but let's add additional requirements related to purchasing a dog from a reputable, careful breeder.
The breeder should allow the purchaser of the pup/dogs access to preferably both parents involved in the breeding. If this isn't possible, it is not a deal breaker, but the dam of the litter should absolutely be available to observe temperament, potential health issues and overall countenance of the dog.
The breeder should provide a pedigree for both parents registered with a nationally recognized agency that specializes in purebred breeds such as the AKC.
A responsible breeder will perform health screenings in order to greatly reduce the incidence of hereditary and significant health issues in their breeding practices. Health tests should be conducted on the sire and the dam to avoid any breed specific and hereditary health issues. The most common health tests conducted are hearts, eyes, elbows and hips.
Pet quality pups should be sold spayed or neutered if purchasing a pup from a responsible breeder. Pups that are of show or working quality should be sold on a responsible co-owner, responsible breeding contract.
If for any reason the buyer cannot care for a dog purchased, a responsible breeder will
take back a pup or dog it has produced at any point during the dog's life.
Adding a puppy or adult dog to your family is a life-changing, exciting event. Many upsetting situations and experiences are due to a lack of knowledge and planning about what to expect from a responsible rescuer or breeder. Knowing what to look for in a rescue or pedigreed dog are crucial to a well adjusted, happy home for the human and canine family members. Many dogs that are currently in shelters are due to a lack of knowledge and communication between owners and rescuers or breeders. Unfortunately, this can be due to unsavory intentions of less than honest and low-character breeders or rescue organizations.
Sadly, the most damage is often to novice and/or first time pet owners. They are often a target for backyard breeders and rescue organizations that engage in unsavory acquisitions of dogs and adoption practices and prey on the inexperience of first time/novice pet owners. Hopefully after reading this article, if you or someone you know is thinking about adopting a dog from a rescue or purchasing a pup from a breeder, you will know what to look for and ask about before adding a new canine to your household!
Keep in mind that these lists aren't exhaustive but will give a good starting point as to what to look for and questions to ask. Research further and educate yourself thoroughly in order to make the process as enjoyable as possible. It will require time and effort but the results will pay off the life time of your dog.
I would love to read your comments on this article. As always, please share freely…it is my goal to provide readers with the opportunity to have as joyful and stress free a life with their canine family members…after all, that is what having a dog is all about!
Want to learn more? Check out these links!
https://www.akc.org/expert-advice/dog-breeding/best-age-send-puppies-to-new-homes/
https://www.akc.org/about/mission/
https://www.petfinder.com/pet-adoption/dog-adoption/before-dog-adoption/
https://dogtime.com/trending/20194-advocacy-column-top-10-things-every-responsible-rescue-should-offer