Why should I use a pet sitter?
Pets that are able to stay in familiar surroundings and that receive regular exercise, mental stimulation and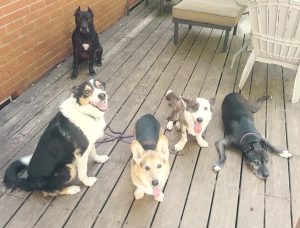 love exhibit less stress based behaviors than pets that are left unattended all day even at home. There is less risk of exposure to illness from other animals as well. Pets enjoy the personalized one on one attention they receive from a professional pet sitter.
How do I begin service?
Call us to schedule a free meet and greet. You can contact us at 734.879.1981. We return all calls within 24 hours and usually sooner. You can also reach us through email!
What payment types do you accept? How do I pay?
We accept cash, credit and checks. You can also pay using PayPal. All payments are due the first day of scheduled service for regular clients.
What if I need to cancel service?
We pride ourselves on being available to our awesome clients. If reservations are not canceled in a timely manner this could interfere with availability for a client that may desire that time block. For this reason, if a reservation is canceled less than 24 hours before the scheduled service time, a cancellation fee of $10 will be applicable. Service will not be resumed until any outstanding cancellation fees are paid.
How many visits can I schedule?
You may schedule up to four visits per day. You can mix and match our wide variety of times to best fit the needs of your pet(s).
Are there extra costs for Holidays?
Major holidays are New Years Eve/Day, Memorial Day, Fourth of July, Day, Thanksgiving, Christmas Eve and Christmas Day. There is up to a $15 surcharge on these days.
I would like to have the same appointment time each visit. Is this possible?
We schedule pet sitting in three hour blocks; 7am-10am, 11am-2pm, 3pm-5pm and 6pm-9pm. We do accommodate times before and after for vacation clients. There is a $5 surcharge for scheduling specific appointment times per client request.