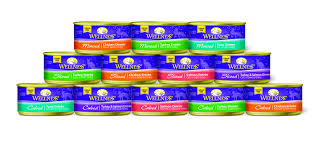 We have learned that there has been a voluntary recall for Wellness cat food. It appears a foreign material was found in a non-Wellness product; however, the product was manufactured in the same facility as Wellness brand food. The company has stepped up to alert consumers in the remote chance that their food may be affected. The original statement is posted below.
We have many clients that feed Wellness and we have fed it in the past. It is a high quality food and we were impressed at the company's disclosure even though it appears that there's a low chance that any of this foreign material was actually found in their cat food.
Please share this important information to all you know that may be affected.
Dear Pet Parents,

Here at WellPet we work hard every day to make sure our natural pet food is the best it can be. So when we were notified this week that a very small amount of our canned cat product may not have been manufactured to our high-quality standards, we decided to voluntarily recall it from retailers' shelves.

Though the chance of having affected product is remote, withdrawing these products is the right thing to do.

Keeping your trust in our brand is so important to us, and so we wanted to let you and our retailers know right away. Since the products may not have been made consistent with our quality assurance guidelines, we want to replace them. Our Quality team learned that a foreign material was found in non-WellPet products made in the same facility, and so we are taking this conservative step to ensure the well-being of cats and to put our consumers' minds at ease.

The recipes are in 12.5 oz. cans with the following best buy dates:

Recipe
Best By Date
Wellness Canned Cat 12.5 oz
Chicken & Herring
08/04/2019
Wellness Canned Cat 12.5 oz
Chicken
08/03/2019 & 08/04/2019
Wellness Canned Cat 12.5 oz
Chicken & Lobster
08/04/2019
Wellness Canned Cat 12.5 oz
Turkey & Salmon
08/05/2019
Wellness Canned Cat 12.5 oz
Turkey
08/04/2019 & 08/05/2019
Wellness Canned Cat 12.5 oz
Beef & Chicken
08/05/2019
Wellness Canned Cat 12.5 oz
Beef & Salmon
08/05/2019

Please click here for how the best by date appears on your can.

If you have any of the 12.5 oz recipes with these best buy dates, you may email us at info@wellpet.com or call us at 1-877-227-9587 and we'll replace your product.

No other Wellness recipes that your pets currently enjoy are involved, so you can continue to feed your pets Wellness with full confidence.

WellPet has worked hard to earn the trust of pet parents, and we fully intend on maintaining that trust. As a parent of a yellow lab named Rommel, I understand the sense of responsibility we all share for our dogs and cats. Rest assured we are taking every action to ensure that our highest standards are being met, and product quality and safety will always be our top priority.

Sincerely,

Camelle Kent

Chief Executive Officer
For further updates, go to Wellness' official website.