Whe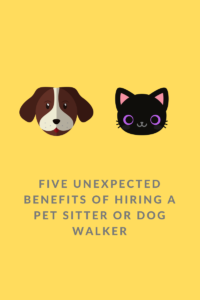 n inviting a professional service into your home, you want to be sure you are gaining a valuable asset to your lifestyle. If you are a pet owner, however, be certain you are gaining a wonderful tool for your life when you find the right pet sitter or dog walker.
Whether you are a 9-to- 5 professional with a new puppy, a retired couple who loves their trips without cats, or a stay-at- home-mom looking for a little help making sure Fido gets his afternoon walk during naptime, read the top five ways Furry Footsteps can benefit you in your daily routine.
1) Better relationship with your pet: Much like children, pets are not themselves when they have too much energy. A pet that is left alone for long periods of time is more likely to show unsocial behavior, have housetraining issues, and overall have unpleasant habits. By hiring Furry Footsteps LLC to walk and water your family pet you get to come home to a calm and exercised pup instead of the furry tornado you have now. As for cats, be prepared to never be greeted with a dirty litterbox again. Now you have time for extra cuddles!
2) Home Security: Professionals who work a predictable routine are often the first targeted for home break-ins – especially in residential areas. When you hire a dog walking or pet sitter service, you are ensuring extra security to your valuables as well. When Furry Footsteps LLC professionals schedule a visit to your home, they perform valuable home check duties such as: bringing in the mail, checking entry points, maintaining a presence in the area, and turning lights on and off to signal watchers that someone is home. Homes with physical oversight are much less likely to be victims of crimes.
3) Increased Socialization: Despite the best in-home training available your pet can come to view outsiders as potential threats; the great unknown come to their front doorstep without treats or bribes of any sort. Through Furry Footsteps LLC professional dog walking and pet sitting services, your pets can come to learn a knock at the door is the signal to be happy not fearful. By taking the dog on walks through the neighborhood your dog can also learn your neighbors can be sources of joy and discovery instead of suspicious characters.
4) Reinforce training habits: Furry Footsteps LLC offers professional dog walking among other services, which means they are fully qualified in training techniques. Our pet learn tricks and training best when it is constantly reinforced, which means by hiring a trained professional you are not only getting someone to let off some energy with your pet, you are getting a training partner. Our team works with your pet every visit to practice good manners and learn new tricks. With this kind of reinforcement, your dog will be dancing tricks around you in no time.
5) Less Anxiety for you and for your pet: Life is full of stress; from juggling appointments to remembering to get your oil changed on time. Fido shouldn't be a stressful part of your life, which is where Furry Footsteps LLC comes into your life. If you know a reliable professional is taking care of one member of your family, it leaves more headspace to focus on other areas of your life. This time with a relaxed and cheerful furry friend, who knows they have gotten the attention they need and you know they are not crossing their legs when you are taking care of business.
These are only a few of the benefits you can see once you hire a service such as Furry Footsteps LLC. If you would like to discuss these and any other of the many services we offer, please contact us at our appropriate page. To be sure, it will be a great investment in your lifestyle.
Furry Footsteps Professional Dog Walking and Pet Sitting in Ypsilanti MI
Average rating:
0 reviews