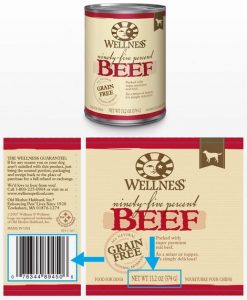 Wellness Dog Food company has issued a recall for it's 95% Beef canned variety because of a naturally occuring beef thyroid hormone found present in the food. The hormone can affect metabolism, but thankfully side effects are reversible. Read on for details!
Complete details of the March 2017 Wellness dog food recall as reported by the editors of the Dog Food Advisor:

What's Being Recalled?

Recalled product includes:

Wellness 95% Beef Topper for Dogs
Size: 13.2 ounce cans
Best-By Dates: 02 FEB 19, 29 AUG 19 and 30 AUG 19

Best-By dates can be found on the bottom of each can.

No other Wellness products are affected.

About the Recall

Elevated levels of thyroid hormone may affect a dog's metabolism and can be associated with increased thirst and urinary output, restless behavior and weight loss.

Multiple studies indicate that for the vast majority of pets, symptoms are reversible as soon as the pet stops eating product with elevated thyroid hormone.

Because the recipe is a mixer or topper and intended for intermittent or supplemental feeding only, the likelihood of a dog being affected is remote.

WellPet has received no reports of any health problems as a result of feeding the affected recipe.

However, the company is voluntarily recalling three best-by dates as an extra level of precaution.

What to Do?

If you have any of the 13.2 ounce cans of this specific recipe and marked with one of the three best-by dates, please email the company at wecare@wellpet.com

Or call the company at 877-227-9587.

U.S. citizens can report complaints about FDA-regulated pet food products by calling the consumer complaint coordinator in your area.

Or go to http://www.fda.gov/petfoodcomplaints.

Canadians can report any health or safety incidents related to the use of this product by filling out the Consumer Product Incident Report Form.
Source: Wellness Dog Food Recall of March 2017