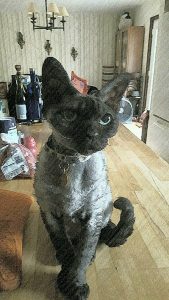 We've gotten countless web submissions and client calls with the same message… "I'm going on vacation and I need someone to come check in on my cat(s) a few times while I'm away."  Potential clients are surprised when I discourage "two or three drop in visits while I'm out of town for a couple of weeks."
We know that cats are an independent species. Though they interact with us on their own terms, they need regular care and supervision too. Anything can happen in the 24-48 hours cats are left unattended while their families are on vacation. Just as your dogs could be exposed to misfortune and accidents without daily visits, your cats can be victim to mishap and misfortune as well!
Here are some important reasons that daily visits for your feline family members is just as important as their canine counterparts.
Your Cat Becomes Trapped
We know how cats enjoy their private nooks and hidey holes. While it's not a big deal to not always know exactly where your cat is while you are home, what if your cat becomes trapped in an area of your home and needs assistance getting free? You know your cat's regular routines and appearances. If there's a disruption in this pattern, you are aware and take the proper steps to locate your cat and ensure his/her safety. If this happens on a vacation and your cat is only being checked on every two to three days, the consequences could be dire for your feline. We realize this isn't the normal situation, but when you won't be in direct contact with your pets, a good rule of thumb is to hope for the best but plan for the worst. Daily visits from a professional pet sitter will ensure that any disruptions in your cat's normal routine will be noted and addressed accordingly if necessary.
Unexpected Medical Emergencies
Regardless of species, the majority of pet owners have experienced unexpected medical emergencies. While they do not happen often, pet emergencies ALWAYS happen  at inopportune times (a lot like unexpected car repairs)!  Daily visits for your cat(s) will take the inconvenience and worry out of sudden medical emergencies…because a professional pet sitter will note any inconsistencies in routine and behavior. Trust us, we pick up on this stuff quick… it's second nature to us!
One of the many benefits of hiring a Professional Pet Sitter is we know our stuff! We've been through the trenches and experienced a lot of common pet emergencies. Our clients trust our judgment and expertise because in-home pet care is ALL we do!!!! We are not hobby sitters, we are professional pet sitters that provide professional, high quality service day in and day out.  You can be confident that any unexpected changes in behavior or routine will be noted by us when we visit your cat(s) daily!
What If Something In Your Home Goes on the Fritz??!!
Home related mishaps are another HUGE reason we encourage daily visits for our cuddly kitty clients! Even if your cat isn't all that social, we unfortunately often (eek!) encounter home-related emergencies, especially when clients are out of town on extended vacations, i.e., a week or more.
Here are some of the most common home related emergencies we've encountered:
Smoke alarm/carbon monoxide device constantly beeping because of low battery or other malfunction (can you imagine your cat(s) having to listen to this for 24-48 hours?!)
Power outages which can cause multiple problems in the home that can affect your pets
Water pipes burst, which causes flooding
Air conditioning/heater system malfunction which can be fatal in some cases
We hope that you take away from this blog the concern and care that we put into our policies and procedures for our non-human clients. We truly want to provide the best care and support for them in your absence. It is our goal that your pets experience as minimal a disruption in their daily routines in your absence.
Ready to book daily service for your precious cats during your much needed vacation? If you're in the Ypsilanti, Belleville, East Ann Arbor or Superior Township area, check us out at Furry Footsteps Pet Sitting. We are the closest thing your pets will have to your care while you're away!