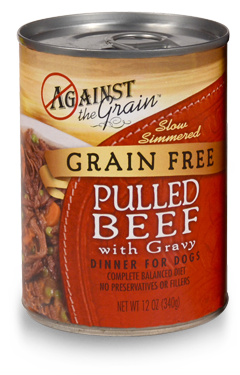 Folks, you are NOT going to believe this, but there is yet another dog food recall. Another Evanger brand, Against The Grain, may be contaminated with pentobarbital.
This is very disturbing because it causes one to wonder why exactly is this chemical continually being found in this pet food? Pentobarbital has a few medical uses, but when it pertains to animals, it is used for euthanasia. This causes me to wonder where this company is obtaining it's meat sources. It's unfortunate for all and I truly hope that no dogs are affected by this contaminated food.
Please read the details below and be sure to share this with friends and family!
February 14, 2017 — Against the Grain Pet Food is voluntarily recalling one lot of Against the Grain Pulled Beef with Gravy Dinner for Dogs because it may be contaminated with pentobarbital.

What's Recalled?

Against the Grain Pulled Beef with Gravy Dinner for Dogs
12 ounce can
Lot Number: 2415E01ATB12
UPC Code (second half): 80001
Expiration Date: December 2019

About Pentobarbital

Oral exposure to pentobarbital can cause side effects such as drowsiness, dizziness, excitement, loss of balance, nausea nystagmus (eyes moving back and forth in a jerky manner), inability to stand and coma.

To date, no complaints have been reported to Against the Grain for this single lot number nor any of Against the Grain's pet foods.

Where Was It Distributed?

The recalled product was distributed (in 2015) to independent pet retail stores in the following states:

The company has verified that the affected lot is no longer on any store shelves.

What to Do?

Consumers may return any can with the relevant lot number to their place of purchase and receive a full case of Against the Grain food for the inconvenience.

Customers with questions may contact the company at 800-288-6796 between 11 AM and 4 PM Central Time, Monday through Friday.

U.S. citizens can report complaints about FDA-regulated pet food products by calling the consumer complaint coordinator in your area.

Or go to http://www.fda.gov/petfoodcomplaints.

Canadians can report any health or safety incidents related to the use of this product by filling out the Consumer Product Incident Report Form.
For more info, go to Dog Food Advisor's main site.
Have these recent recalls affected how you think about feeding your pets? We would love to read your comments!