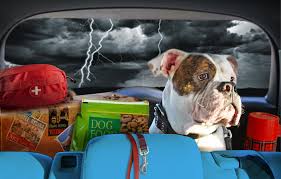 If we are honest with ourselves, it is not a common practice to consciously plan and review household emergency procedures. I'll admit, every time I watch the news and listen to the more frequent natural disasters that happen, I always feel a twinge of guilt knowing that I need to have a well planned and communicated, visible emergency procedure plan for our household…which includes our pets!
Formulating an emergency procedure plan for your pets doesn't have to be a monumental task. With a little thought and careful planning, you can ensure that in the event of an emergency, your pets will thoughtfully provided for. Here are a few steps you can follow to make sure this happens!
Be sure to know pet friendly safe spaces
Depending on where you live, a lot of emergency shelters can't accept pets. Contact local hotels and motels in and around your area to see which ones will accept pets in the event you have to evacuate. It also helps to keep an extra set of leashes, collars/harnesses and easily transportable crates if you have to quickly leave home with your pets. Getting this info ahead of time will greatly reduce your stress level in the event of an emergency evacuation.
Keep ID on your pets
ID tags are a simple, effective way for your pets to be identified if they become lost or separated in an emergency. Having a microchip will increase your chances of finding your pet if it is rescued; however visible identification tags are a quick way for a kind soul to contact you if your pet is found! Be sure to include an up to date phone number on your pet's tags.
Make a pet emergency kit
Have a grab and go which includes pet essentials.  You can download Preparing Makes Sense for Pet Owners for an exhaustive list of items to include in your pets kit.
Here's a short list:
Food
Vet records
First aid kit
Medications
Bottled water
Food dishes
Litter /pan
Get a Rescue Alert Sticker
Let people know you have pets in your home. A rescue alert sticker identifies the number of pets in your home as well as type. You can include veterinarian info as well as medical alerts.
Order a free emergency pet alert sticker here. Allow 6-8 weeks for delivery.
Choose designated caregivers
Choose a person that you know is reliable and that you can trust and have successfully taken care of your pets reliably in the past. Be sure to be on the same page as to your expectations with this carefully chosen pet guardian. Keep in mind that this person should be easily accessible in the event of an emergency and have a set of keys to your house. Many times, trusted neighbors or pet sitters are great options for temporary caregivers.
Exotic pets
If you have exotic pets please take into consideration the potential special needs that these pets may require.  Be sure to modify their transport, nutritional and species specific needs appropriately.