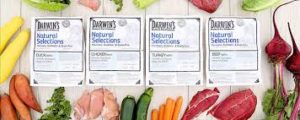 March 26, 2018 — Darwin's Natural Pet Products of Tukwila, WA, has announced it is voluntarily recalling four lots of dog food after testing showed that specific products have tested positive for Salmonella and/or E. coli O128.
These pathogens can cause serious and sometimes fatal infections.
Darwin's Natural Pet Products are exclusively sold to customers through a subscription service. Customers who purchased the products have been notified of the recall directly by Darwin's.
No product images were provided with the official notice. [Read more…]